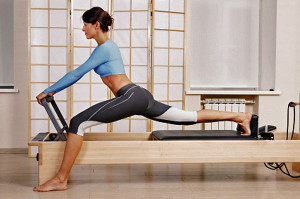 We are the Premiere Pilates Studio in Santa Clarita. Our studio offers private and group sessions with fun and experienced teachers. We are a spacious and well-equipped studio with a team of teachers dedicated to offering Pilates to everyone. We make a point of learning each individual body and then teaching our students the proper biomechanics and techniques to strengthen their bodies efficiently and intelligently. Pilates is our passion and we want to share our passion with you!  Come give us a try and let us help you!  No excuses because we have movement for EVERY body!
ADDITIONAL INFORMATION:  We have been serving the pilates community in Santa Clarita since 2007.  Our primary focus is on the customer experience each individual client receives. We thrive on making this amazing form of exercise available and affordable to the local residents here in Santa Clarita.  Compare our prices to other traditional studios and see for yourself!
GETTING STARTED is simple and easy. We know how hard it can be to start something new so we take extra special care with our NEW PILATES STUDENTS. Let our highly qualified Pilates Instructors show you how to start pilates correctly.  If you have experience with pilates, we will assess your current level of experience and build on what you already know!
Your body was designed to move!!  Imagine your life without pain. Imagine being fully functional at work, in sports and at play. Imagine being stronger, leaner, more flexible and healthier for all of your life's activities.  Our unique, integrated approach combines the latest Pilates techniques and equipment to create designed to improve: core stability, posture, flexibility and strength.  For the individual recovering from an injury or suffering discomfort, we recommend one on one sessions, or alternatively the beginner classes. Intermediate and Advanced classes (maximum of 6 people) are available if you have previous experience with Pilates, or once you have progressed to a higher level of strength, stability and fitness.   We offer each new person a complimentary 55 minute session so we can assess your level and place you accordingly.   Our instructors will designed a program to make you move better and, as a result, feel better.